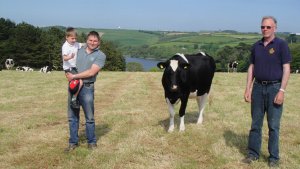 Our 2018 Open Farm Sunday a great success with nearly 1000 people attending.
We would just like to say a huge thank you for all your help on Sunday during our Open Farm Sunday event.
We were overwhelmed with the support we had from each and every volunteer who gave up their time.
We had almost 1000 visitors to the farm during the 4 hours we were open.
We raised £1025 from tea and cake donations, which has been given to the charity Parkinson's and Cancer.
We could not have made it such a special and worthwhile day without your support.

- Click for some photos 2018 https://youtu.be/RNe9dltO2lI
For a 4 minute video click this link http://www.youtube.com/watch?v=zGKfQGoLnJE
OPEN FARM SUNDAY REPORT -
We are an independent potato grower and grow potatoes for BURTS crisps.. Planting starts in February and we harvest late June and July.

Our potatoes are grown in a clean environment and have full "traceability". The potatoes are harvested graded, packed on the farm and every care is taken to to ensure they arrive at the markets in perfect condition.
A family run farm situated on the south coast of Cornwall around Loe Pool. Loe Pool is the largest fresh water lake in Cornwall, and is a haven for wild life.
Small films for children click on the link below-

..................................